Demystifying the Christmas Tree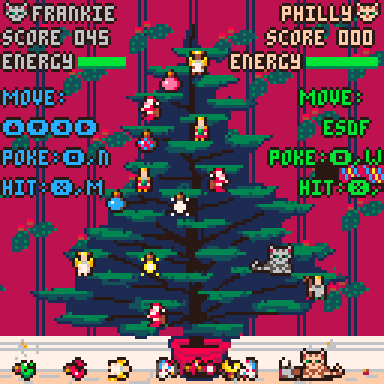 Cause Christmas chaos as a kitten, alone or with a friend.
Link (seems better for mobile)
Help your kitten destroy as many decorations as you can before the tree is fully decorated or their energy runs out and they nap.
Try to destroy multiple decorations within a short time to get combo bonuses and improve your score. Use your energy wisely, young feline.
Play as Philly or Frankie on their own or with a friend against each other. See who can cause the most chaos!
Controls
Action
Frankie (Player 1)
Philly (Player 2)
jump
up
E
run
left/right
S, F
descend
down
D
poke
O(Z)
W
swipe/hit
X
Q
menu, including music on/off and restart.
Return/P/start
(These are the standard PICO-8 controls so some other keys work too)
Background
Demystifying the Christmas Tree recreates a real event from a Christmas past, although in real life the kittens not only broke decorations, but also took out parts of the tree itself. They also didn't run out of energy (as anyone who has had kittens would know).
1.0.1 update: after testing with the owner of the kittens (my girlfriend's mother aka "mother-outlaw") I've added an option to change the speed that the arms decorate the tree.
1.0.2 update: added fade effect to intro. Because I felt like it.
1.0.3 update: added combo indicator after user feeback.